Favorite Links
Favorite Links
The following is a list of useful links that I have compiled. If you wish to be added to this list, please send me an e-mail.
Favorite Sites
The governing body of r/c aircraft flying. Everyone is encouraged to join if you are interested in flying model airplanes. Most clubs, like ours, require AMA membership to fly at the club field. They have an Intro Pilot program that lets a new pilot fly with an instructor for a set number of days before membership is required.See their website for details.
I find RCUniverse to be an extremely helpful website. Registration is free, and the site offers useful information such as user reviews , in-depth reviews and an auction site. You can upload pictures of your models also.
Our local hobby shop (lhs). Carries an excellent assortment of r/c planes, helicopters, cars, trucks, parts and supplies. Be sure to pay them a visit!
Web pages for the AMA district our club is located in.

A useful website to check out weather conditions.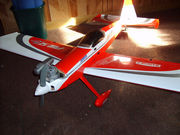 Search Engines
You know us as the Internet's original search engine.
One of the most visited hubs on the Internet, reaching one out of every two Web users.
With over half a million sites, divided into more than 25,000 categories, Yahoo! is both browseable and searchable.
GO Network is a new brand that brings together the very best of the Internet in one, easy-to-use place.
Have Fun!